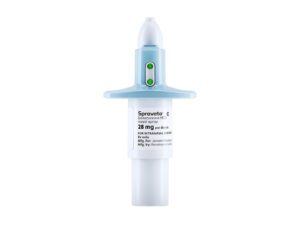 At GenHealth, we have offered Spravato® (esketamine) Therapy since the year of its release in 2019.
Spravato® is a prescription medication that is used in the treatment of major depressive disorder (MDD) in adults who have not adequately responded to previous antidepressant treatments. It contains the active ingredient esketamine, which is a derivative of ketamine.
Spravato® comes in the form of a nasal spray that is self-administered under the supervision of a GenHealth healthcare provider at one of our locations. The administration of Spravato is closely monitored due to the potential for side effects, and patients are required to remain at our facility for at least two hours after each dose.
Esketamine, the active ingredient in Spravato®, works by targeting the glutamate system in the brain. It is believed to help restore synaptic connections that may have been damaged by depression, leading to a rapid reduction in depressive symptoms.
Spravato® is typically used in conjunction with an oral antidepressant medication, which is continued throughout the treatment. The treatment process typically involves an initial phase of twice-weekly Spravato® administration for the first four weeks, followed by a maintenance phase of once-weekly or once-every-other-week doses, depending on the individual's response.
The potential benefits of Spravato® include:
Rapid onset of action: Spravato® has been shown to provide relatively quick relief from depressive symptoms compared to traditional oral antidepressants, which can take several weeks to have an effect.
Improved treatment response: Some patients who have not experienced significant improvement with previous antidepressant treatments may respond better to Spravato®, offering a new option for managing their depression.
Enhanced remission rates: Studies have indicated that Spravato® may increase the likelihood of achieving remission from depression, which refers to the absence of significant depressive symptoms.
Every insurance is different, so specific costs associated with Spravato® may differ. Please reach out to our office for more details, and follow the link to the Spravato® website for more information.